2001 BMW 740iL For Parts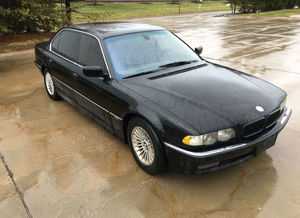 Exterior Color:
Jet Black 668
Interior Color:
Black Leather N6SW
Chassis:
E38
Production Date:
03/01
Mileage:
218591
parts car description
Running and driving 2001 E38 740iL for parts! Good running M62tu engine, engine was said to be replaced fairly recently although the mileage is unknown, good 16:9 widescreen navigation with working tape, good DSP audio and CD changer, black leather interior with heated front comfort seats and door shades. Good power folding mirrors, good black front hood and lots of good running gear on this one!
pictures/video